The Mousetrap Theatre Company
Redcliffe's Premier Little Theatre
OUR NEXT SHOW DON'T MISS IT !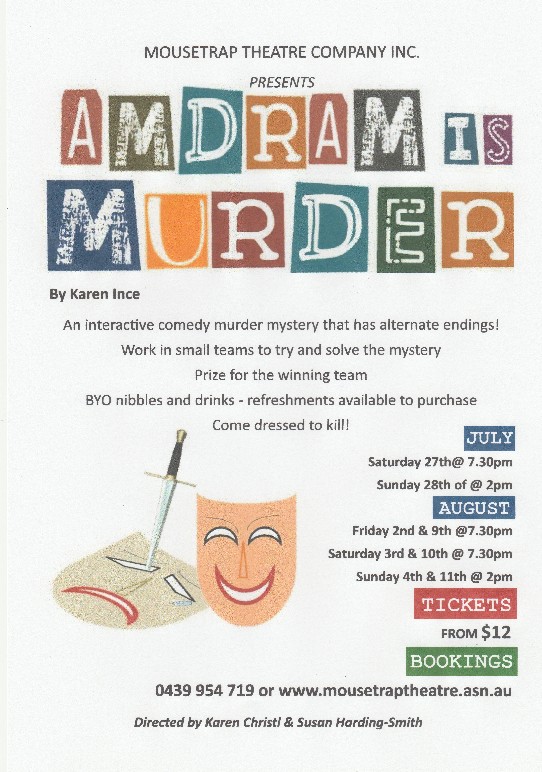 Karen Christl and Susan Harding-Smith
August 2nd,3rd,4th,9th,10th,11th
Amdram is Murder" is a Theatre Restaurant Style Murder Mystery with audience involvement.
You will watch the murder mystery unfold and then share your snacks and drinks while contemplating who" did" it. Then after hearing eye witness accounts, its your turn to interrogate the suspects. Then enjoy some cake and coffee after which the murderer is revealed. Prizes for the correct and best deduction. Come "Dressed to Kill" and enter the costume contest. Come along and give us your best Sherlock Holmes Impersonation.
BYO alcohol and nibbles, or buy one of our snack platters for yourself, or to share.
So What's the Mystery Here?
Members of the Marchfield Amateur Drama company are rehearsing a period murder mystery. Amongst the assembled company we find :-
Cathy James: The producer of the murder mystery evening, a leading light in MAD. A very organised lady who likes to organise other people too.
Derek Sharp: The company's leading man and considered (by himself) to be quite good-looking, suave and sophisticated.
Fiona Barnes: One of the actresses. Kind-hearted and gentle.
Jenny Morris: Another actress, but cynical, brash, even hard.
Shelagh Harris: A third actress. At first appearance very typical British middle class, but it turns out she's not as up-tight as she might appear.
On the surface - a typical village theatre, but underneath - jealousies lurk and the group harbours someone capable of murder!
Rehearsals are interrupted by the news of an unexpected death. Three eye-witnesses come forward with information. Can the audience find out the truth?